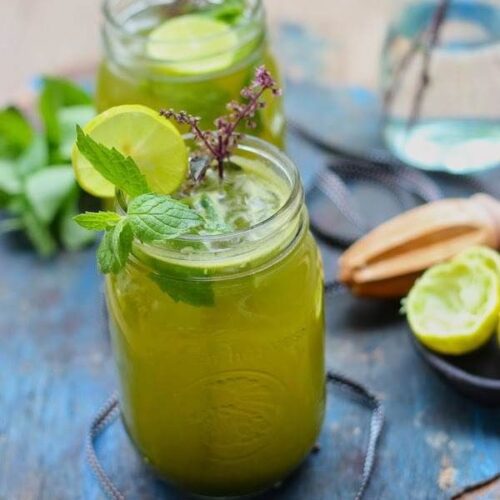 Tulsi Lemonade
This lemonade has a sexy twist! Tulsi, also known as the 'Holy Basil', is extremely beneficial in treating male impotency as its seeds increase blood flow and strength in the penile tissue. and the arginine contained in the leaves can prolong the life span of sperm and consuming basil leaves regularly can prevent infertility. Lemon and limes have been shown helpful in improving erectile function.
Ingredients
1

quart

pure water

2-3

lemons

2

organic Tulsi Tea Bag

or 1 TBSP loose leaves

Stevia to taste
Instructions
Boil water and brew the tea bags for 5 min. Let the tea cool. Then, cut the lemons in rounds and the rounds in half.

Combine in a jar and sweeten with a little stevia. You can add ice if you'd like.

On-the-go: In the office or in my travel, I substitute fresh lemons for lemon essential oil (supplement grade). For 1 cup tea, use 1 or 2 drops of EO only.
Notes
Remember that 1 drop of stevia is 400 times sweeter than table sugar. I like to use the unprocessed green leaf stevia (the actual leaf powdered). I buy it online HERE.