My Book: "Feeding Success: A Nutritional Blueprint To Fuel Busy Professionals and Business Travelers"
"There is a new type of business professional emerging globally. Fit, strong and in-the-know on how to maintain peak performance. "Feeding Success" is your ticket to joining that emerging business elite, where work truly becomes high play, and the food you eat, the exercise you deploy and the mindfulness you employ become potent aspects of your recipe for success."
Laura J. Brown, Author of Dragon Eyes.
ABOUT THE BOOK
Feeding Success is a nutrition and lifestyle guide to help busy professionals and business travelers increase their energy and maximize their potential. It is also the story of overcoming and auto-immune disorder and burnout with empowering dietary and lifestyle changes.
6 REASONS WHY YOU NEED TO READ THIS BOOK
Emmanuelle will teach you:
What foods increase energy, improve mental clarity, and reduce stress in your body;
How to boost your immune system before a business trip;
Tips to induce restful sleep;
A framework to create an exercise program for well-rounded fitness and a winning mindset;
How to order healthy foods in a restaurant;
How to sustain energy on your big days with nutritious meals and power snacks.
How she turned around Graves Disease, a thyroid auto-immune disorder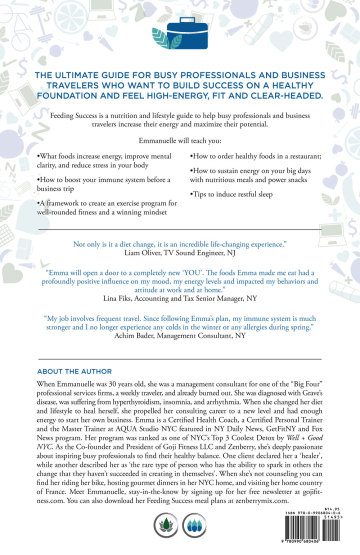 FEEDING SUCCESS VIDEO
Click HERE to meet Emmanuelle and see her short video describing what enabled her to write this book: her upbringing, professional and personal journey.
TESTIMONIALS
"Not only is it a diet change, it is an incredible life-changing experience."
– Liam Oliver, TV Sound Engineer, NJ
"It is an amazing book. I absolutely love the goal oriented approach to the change." - Hicks
"Truth be told, I wish that Emmanuelle Galland had written this book ten years ago. That was exactly when I was closing my business and my blood pressure was soaring at stroke level numbers. Not trusting a medical community that wanted to put me on medications without helping me alter my lifestyle I had to figure it out for myself. Disease caused by stress in the corporate environment and by the constant traveling is much more common than people imagine. In her book , Emmanuelle lays out a simple roadmap that will help you feel balanced, relaxed, healthy and successful in a very short amount of time. I would also recommend it to anyone that has a job! I could tell by what I was reading that if she's your coach, that she's 110 percent committed to your success. If you work fast and hard, she's definitely who you'll want by your side!"
- Beth Schreibman Gehring
"This book is so needed! By all the business travelers, and on site consultants who struggle to stay healthy in challenging environments. This book is very goal-oriented and focused for the business professional who wants to take their health and their career to the next level. Emma's approach will be pleasantly familiar to any busy professional, with a blueprint, guiding principles, and clear sign-posts every step of the way. With in-depth nutritional explanations as well as milestones, templates, checklists and examples, Emma's approach makes it easy and so doable to follow her plan. Her dietary advice is extensive and designed to be easy to assimilate, with descriptions and benefits highlighted, as well as how to integrate them into your diet. This book is so comprehensive, it amounts to a "tour de force". Powerful and engaging, this book holds the potential to change the arc of your career through health and healing, not to mention the quality of your life. But it's not all high-powered, hard-charging business performance. Her advice about changing your beliefs and habits is spot on. Emma also covers how to slow down and innovate, and use travel time as down time, recognizing the importance of relaxation and rest to creating our best lives. Emma unwinds the beliefs and attitudes that keep us trapped in high stress jobs, and lead to burn out sooner or later. Then helps us replace those beliefs and habits with health affirming ones." - Laura J Brown
"Emma will open a door to a completely new 'YOU'. The foods Emma made me eat had a profoundly positive influence on my mood, my energy levels and impacted my behaviors and attitude at work and at home."
– Lina Fiks, Accounting and Tax Senior Manager, NY
"I loved this book and now my husband is reading it, too. What a fantastic tool for any business person who wants to have more energy, be more creative and clear-thinking at work and in their personal life. Well written, inspiring, held my attention. It's a fairly quick read - I read it cover to cover on one travel day from New York to Chicago. But I will keep it handy as a reference. Feeding Success contains checklists, journal prompt workbook sections, 4 Day workout plan for travel, 4 Day easy menu plan, healthy snack suggestions. I love the idea of having Monday - Thursday be Power Days and the concept of Goal-Directed Nutrition. No longer am I just trying to avoid a certain junk food out of sheer will power - now I have a purpose: my need for high energy to get the most out of my work day! I am going to start to consider myself as an athlete and my "sport" is having the high energy needed to be my best at my work". - Mary J Hahn.
"My job involves frequent travel. Since following Emma's plan, my immune system is much stronger and I no longer experience any colds in the winter or any allergies during spring".
- Achim Bader, Management Consultant, NY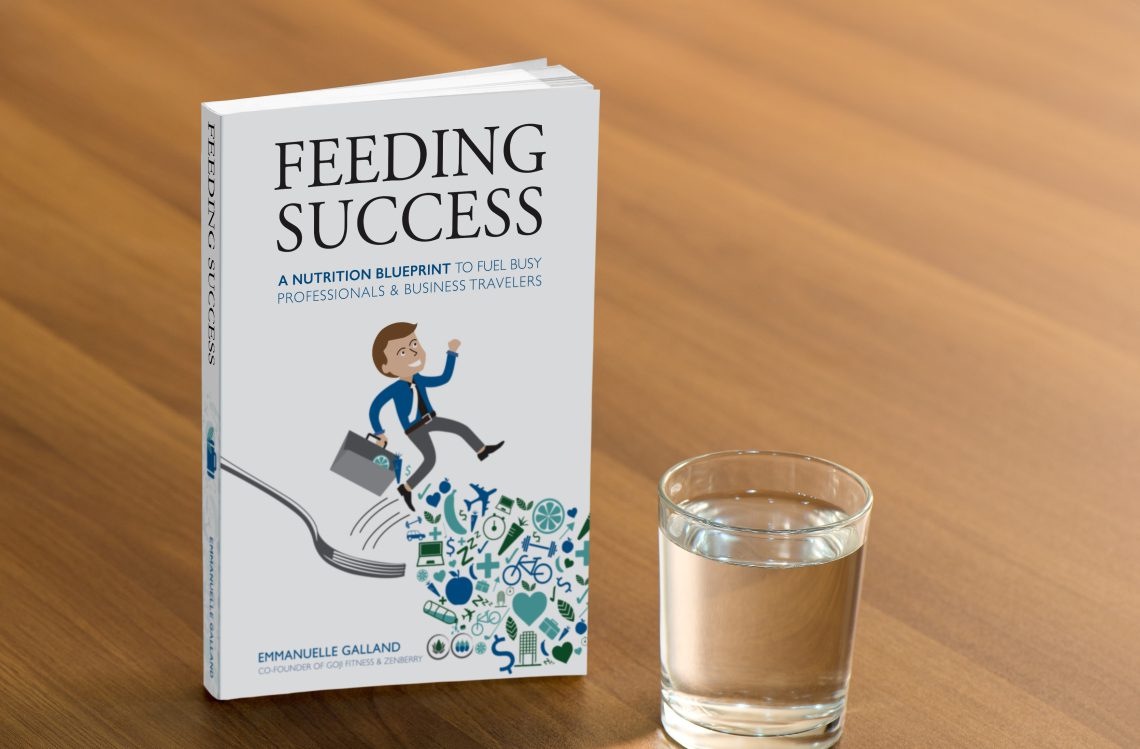 $14.95 - PURCHASE OPTIONS
BEST OPTION FOR THE AUTHOR: Directly from Emma and she will sign it for you (indicate the name of the person the book is for)
[fc id='18' type='popup' bind='.form-18'][/fc]
Purchase From Amazon Click Here to Purchase Feeding Success from Amazon.com
Word of mouth is how a young author's voice spread.
Will you be so kind to leave me a review to help my message increase its reach? Thank you!
Get a Free copy of "Feeding Success" When you subscribe to the Newsletter.