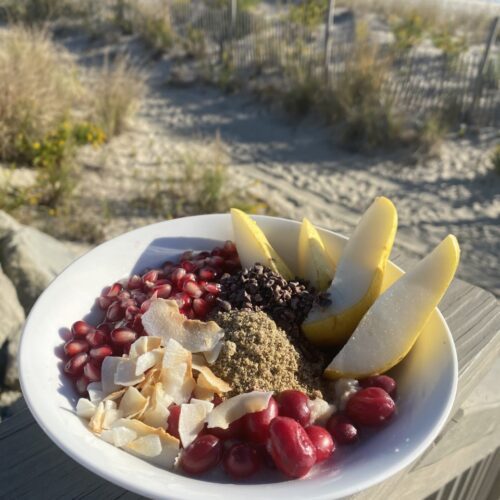 Fall Oats with Cranberries and Pomegranate
This Fall breakfast is to die for and exposes the American palate to tastes it's not used to consuming in large enough quantities. Americans over-indulge in the sweet and salty tastes and lack enough exposure to the bitter and astringent tastes to self-regulate. In this breakfast, I love the astringent taste of the fresh cranberries, pomegranate and sweet/astringent pear combined with the sweetness of the oats, and the bitterness of the cacao bibs. Flaxseeds are also astringent and a diuretic. In fact, flax seeds are a medicine in Ayurveda and used in so many remedies. This breakfast is loaded in antioxidants and foods that have hormones balancing properties (and do I need to remind you that Pomegranate is Aphrodite's symbol of Sensuality? They support nervous and cardiovascular system health, hormonal balance, improve erectile dysfunction in diabetics, reduce prostate enlargement, etc.). Bon Appetit!
Ingredients
⅓

gf organic rolled oats

½

cup

organic fresh cranberries

1

tsp

vanilla paste

or extract

½

cup

pomegranate seeds

1

ripe Bartlett pear

2

tbsp

flax and chia seeds

freshly ground

2

tbsp

raw cacao nibs

a pinch of toasted coconut flakes
Instructions
In a pan, cook the oats, cranberries and vanilla paste together with 3/4 cup for 5 minutes. Cook until the cranberries have popped and softened. Add more water if needed. Meanwhile prepare the pomegranate (about 1/2 a large one makes for 1/2 cup of seeds) and slice the juicy pear. when the oats are ready, pour in a bowl and adorn with fruit, seeds, nuts and cacao nibs. This is SO delicious and nutritious!