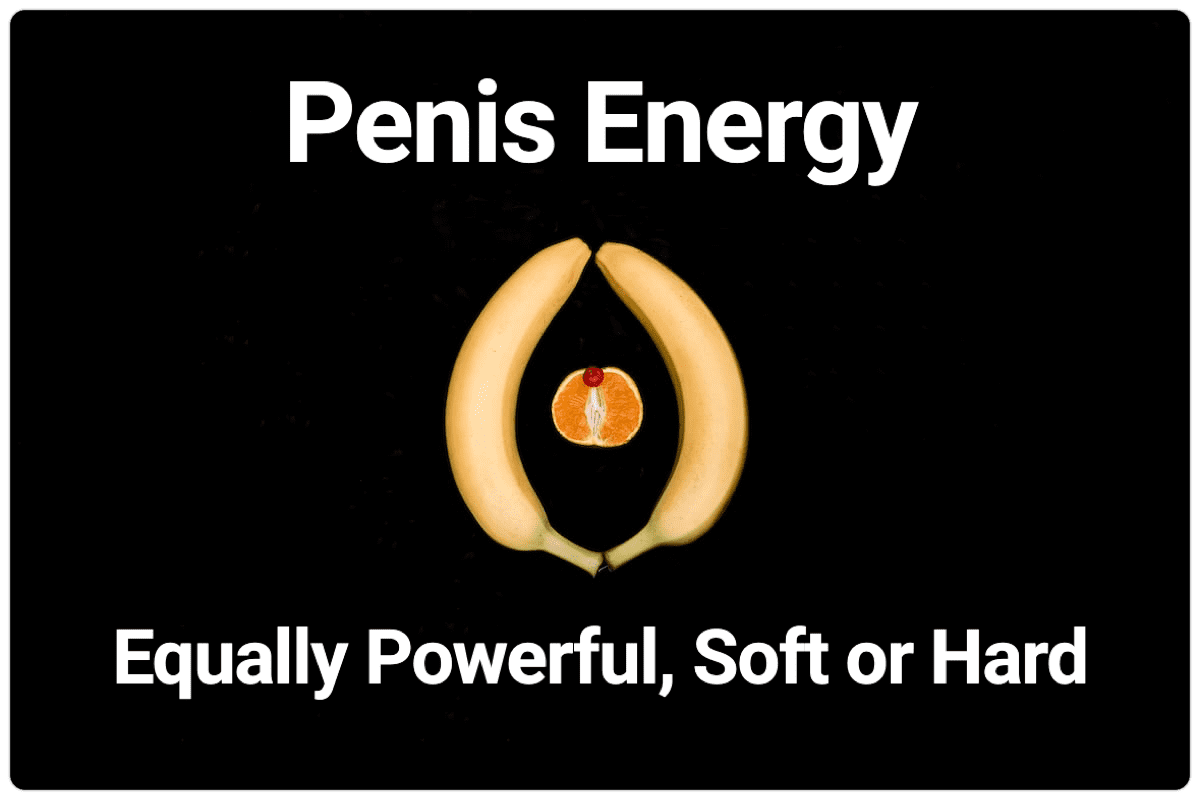 Have you ever lost an erection and felt awkward about it, even embarrassed, and hoping your partner wouldn't notice?
Have you even felt worse when your partner wondered if they had done something wrong or started doubting whether you found them attractive or exciting enough?
An erection is a thing of beauty and it is fragile. Men carry a lot of insecurity and fear around the loss of erection.
A man often tries to cover up a diminishing erection by exciting or stimulating himself or his partner in some way. Why is that? Why trying to cover up or "fix it" by increasing arousal?
I found that many men (and sadly, society) consider the erect stage of the penis as being THE penis. Many men believe a flaccid penis is of no real consequence, and that soft sadly equals impotence.
It couldn't be further from the truth. A relaxed penis is equally valid an instrument and continues to have inherent dynamic and penetrative properties. Instead of feeling shame and fear around loss of erection (and trying to get it back), it is far better for a man to allow his penis to relax and stay inside the vagina (or use soft entry into a vagina) and at the same time connect with (be aware of and true to) his real feelings, which may be insecurity, weakness, disconnect, or a feeling of helplessness.
Feeling these feelings can be experienced as a kind of small death. There may be sadness and tears, or not knowing, accompanied by shaking and shivering. Expressing the deeper fears that underlay loss of erection is a form of healing, cleansing, and empowerment that establishes a man more deeply in his authentic male authority.
I want all the Kings of this Earth to know (and all the Queens) that whatever the stage of erection, whether hard or soft, a penis has an inherent penetrative, dynamic and positively charged energy. The back and forth movement/friction is NOT what confers a penis its penetrative, dynamic energetic power. It just is by its very nature.
A woman can feel a penis inherent power whether hard or soft inside her. A penis and its head are like a big positively charged magnet. Just like a vagina's very nature is that of a negatively charged magnet with receptive, welcoming and absorbing powers.
Further, an erection is not needed to have sex. With the right technique, a soft penis can be fed into the vagina. It's called Soft Penetration (and it's just as divine!).
Neither are erection and movement needed to experience the dynamic power of a penis and it's an amazing feeling to experience the dynamic/receptive powers and natural rhythm of our male/female genitals in any way they present themselves.
Men experiencing their innate penis power in stillness may actually develop a spontaneous erection inside their partner, which differs from an erection provoked by stimulation and lust. It's life force in a state of relaxation and expansion.
I love when this happens! When a vagina and a penis begin to converse in their own language together without man/woman actually ding or thinking of anything, or directing the show, and letting their genitals's inner intelligence be.
I hope knowing this helps you relax and be with what is. When your erection fluctuates, be curious, what's going on? Also, know that you can have sex no matter the stage of your erection, no matter how old you are. The Penis is so wise! All stages of erection are welcome and each is an invitation to attune and become curious.
If you desire to develop a glorious connection with you penis and / or understand what your body's trying to tell you with erectile dysfunction or premature ejaculation issues, reach out to me. I offer coaching packages to men ready to learn and do the work to rapidly up-level their sexual power.
Much Love/ Emma
TESTIMONIALS
"Love, you have addressed the "elephant in the room" n you've done it just right.. Your post on erectile dysfunction is so mature and apt.. So true.. It's not about staying hard n banging with no passion..it's about energy flow between the bodies. My respect n compliments" J
"The best part was explaining the soft penetration.. it's such an underrated technique.. but once the blood has flown back to the heart and the lust is fed, that is when soft penetration happens, the moment and connection is beautiful.. the energy flow is without the fear of a performance. It's just love.." C
"From the "men" fraternity.. Thank you!" V