Ronnye is turning 78 today and she looks so fabulous! Happy birthday Ronnye! Everyone in my morning's Zoom Exercise Class was astonished. Ronnye started exercising later in life, at age 40, back then she was overweight and continued exercising through 3 cancer diagnostics, being an entrepreneur, and a single mom. She embodies for me the words "Warrior Attitude".
At 78, she looks easily a decade younger. She is strong, fit, energetic and has an amazing outlook on life and her future that is awe inspiring to me. I've worked with Ronnye for 13 years in various roles over the years, as her personal trainer, group fitness instructor, nutritionist and now her morning zoom exercise class teacher. Her attitude is inspiring and motivating to me and her classmates and I wanted to celebrate her and share her story with you through her answers to 5 questions I posed. I know she will inspire you too!
1/ I know that you came late in life to fitness. Tell us the story of how you started.
"I spent much of my life very overweight and with a bad self-image.  I tried Weight Watchers several times and at one point in my life peaked at 200lbs.  When I moved my Manhattan office to W 38 St in the mid-late 80's one of my vendors offered to allow me to join a gym  on that street with their corporate discount.  I met a group of people who became my inspiration.  When that gym closed we all went to NYSC on 5th and 36th.  When that gym closed we all went to the new NYSC on W 39th.  Later I joined Crunch and found another community of like minded people.  I was about 40 years old when I first went to that or any gym. Now working out is as much a part of my life as breathing.
Pic: St Tropez, France in the 60's.
2. In the COVID area, how do you keep in shape. How do you stay motivated to show up and exercise? Being home-bound and with the isolation of the winter coming upon us, it is challenging for many.
I really miss spin classes!!!!
The first 2 months were difficult.  I was working like crazy since my business was essential.  I tried to go walking but I wasn't getting enough.  When Emma offered 7 AM classes I was thrilled to  join.  We soon developed that fitness community that is so important to me and I got my mo-jo back.  Just think of how much easier it is to go to the computer for that Zoom class than to bundle up in 20 degrees and snow to trek to the gym!  I think I'm working out as hard as ever.  Even with the few items I've purchased like new bands and heavy weights I have created a real gym in my home.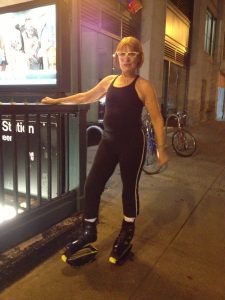 Pic: Ronnye and I doing "adventurous" personal training with a kangoo run in the streets of Manhattan at 7AM.
3. One thing that has always amazed me is that you never hide behind excuses to skip on your exercise routine, and you do have injuries… How do you work around limitations and still feel accomplished?
If I don't work out they won't go away so why bother worrying?  I just do whatever I can do.  I don't feel judged.
I had 3 very serious Cancer surgeries in the early 90's.  As I was recovering from each one I decided I needed to walk starting around the nurses' station in the hospital; IV in hand.  I was not in control of the disease  but I was in control of how I recovered.  After each surgery when I was permitted to go back to work that was the day that I went back to the gym.  I remember walking (maybe crawling) for 5 minutes on the treadmill.  I kept increasing the time until I was able to resume my regular workouts. I believe going to the gym helped me recover.
Pics: Ronnye run/walked her first 1/2 marathon 4 years ago! We'd train rain or shine for it! I'd hold an umbrella in the downpour and we'd exercise and practice stabilization on wet surfaces.
4. Thinking about our morning classes, what are your top 3 favorite exercises and your 3 least favorite exercises and why?
Faves:  weight training, yoga (of course), abs (I love planks).
Not so faves:  I really cannot think of any.  It can change from day to day.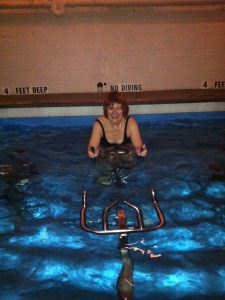 Pics: At David Barton's gym pumping iron and being one of the first to try Aquacycling when AQUA Studio opened in NYC.
5. What last message or word of advice do you wish to share with our FIT Community, which is made of many people in their 40″s and up?
We are all different but one thing that's important is to keep moving.  It doesn't take long to improve and get confidence once you start.  I beg my friends to do anything.  It's never too late to start.  We are all so busy being in charge, making important decisions and working hard that joining a class or having a trainer is one way not to be responsible.  I just show up, follow instructions and let someone else be responsible for me.
I love my new 7 AM community."
Thank you Ronnye and happy 78th birthday!! We all love having you be a part of our community.:)
For information about our FIT community and morning classes, email [email protected]