I once had an overweight client tell me that she was afraid of losing weight because men would notice how pretty she is. Her statement dropped like a truth bomb and caught us both off guard. It came after a series of questions I asked to help her uncover the reason why she would plateau and self-sabotage after she'd drop 10lbs. At the time, I was a less experienced coach, and thought that we had uncovered the bottom line. But we hadn't… It was just the tip of the iceberg. Knowing what I know now, after having received thousands more hours of training and worked with many more clients, I would now ask her: and why are you afraid that men would find you pretty? What are you afraid would happen? And happened in the past that led you to gain weight to shield yourself from unwanted attention?
What I learned in the more recent years, in my certification studies both a holistic health coach and to become a Holistic and Tantric Sex, Love and Relationship coach as well as in my personal experience with my auto-immune disorders is that "The Body Keeps The Score" (to quote Bessel Van Der Kolk's amazing book).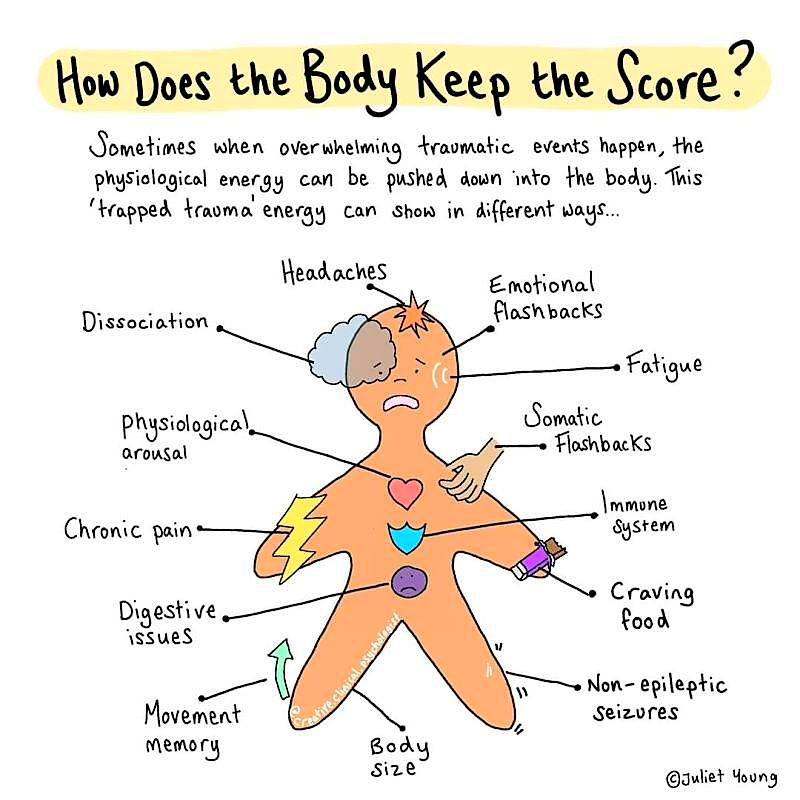 Disease is ultimately an issue of self-disregulation. Ayurveda, 5,000 years old system of traditional medicine, outlined the 6 stages of disease formation and attributes it to imbalances in your mental, emotional, physical constitution (dosha) that are not regulated and continue progressing and worsening until diagnostic tools can finally measure the breakdown and label a treatable illness.
Bessel Van Der Kolk brilliantly argued in his book that developmental trauma (what happened in our childhood years) is the biggest epidemic in America, correlated to our Health Crisis, and that (quoting) "self-regulation depends on having a friendly relationship with your body. Without it, you have to rely on external regulation – from medication, drugs like alcohol, constant reassurance, or compulsive compliance with the wishes of others. Many of my patients respond to stress not by noticing and naming it but by developing migraine headaches or asthma attacks."
THE BODY KEEPS THE SCORE: HOW A STRESSED NERVOUS SYSTEM SHOWS UP SOMATICALLY
My Ulcerative Colitis was triggered by relationship issues with various people and family that had weighed on me for a long time. I have had 3 big flare-ups, each triggered by refusing to let go of specific relationships that had run their course, or having very difficult conversations and letting go. I thought about these issues all day long, they kept me up at night, I lived with "low grade" unease, fear, guilt, and shame. My thoughts would run in loops and I could feel the bloating and pain in my gut, even if I ate a very clean diet. My body kept the score. As soon as I did muster the courage to severe relationships, do my own shadow work, and/or let go of past hurt at last, the cramping, bloating, bleeding, inflammation, receded and I healed. Finding and maintaining my peace is the most important aspect of my health regimen today (diet, and lifestyle being in a great place of course, I did the work to get there over the years. Health is a continuum).
Bessel Van Der Kolk continues "Somatic symptoms for which no clear physical basis can be found are ubiquitous in traumatized children and adults. They can include chronic back and neck pain, fibromyalgia, migraines, digestive problems, spastic colon/irritable bowel syndrome, chronic fatigue, and some form of asthma. Traumatized children have fifty times the rate of asthma as their nontraumatized peers. Studies have shown that many children and adults with fatal asthma attacks were not aware of having breathing problems before the attacks." So when people are chronically angry or scared, constant muscle tension ultimately leads to physiological symptoms such as spasms, back pain, migraine headaches, fibromyalgia and other forms of chronic pain. And the diagnosis which defines a patient's reality will be delivered without ever being identified as a symptoms of their attempt to cope with trauma.
This is ALSO my personal story, with my first diagnosis of auto-immune disease in 2007, Graves Disease. It was trauma related. My trauma was a scuba-diving accident on Memorial Day weekend in 2007, where I run out of air at 90ft under and my dive buddy refused to share his air with me. I did an emergency ascent, almost drowned, trying to swim back to the boat in crazy waves with no-one helping me. The adrenaline rush completely disregulated my entire endocrine system leading to symptoms of a thyroid storm the day after the accident but neither my endocrinologist, nor the head of the hyperbaric chamber I visited after first symptoms appeared fearing The Bends, ever made the connection. I felt under attack, beyond stressed and with panic attack break downs for months! It was so bad, I had to take a Family Medical Leave of Absence (FMLA) from work and be at bed rest for 2 months! Of course, my stressful management consultant life combined with an inflammatory diet and lifestyle, which included gluten, dairy (I later found I was allergic), red meat, the occasional fried foods, dessert, wine, excessive amount of weekly flights and hotel stays, every day restaurant meals loaded with fat, salt and sugar and lack of sleep (though I exercised daily for 60 min) didn't help me. It had weakened my digestive system (leaky gut) and my immune system and the dive accident tipped the scale into overdrive. But without the huge traumatic stress response, I may not have become sick like I did.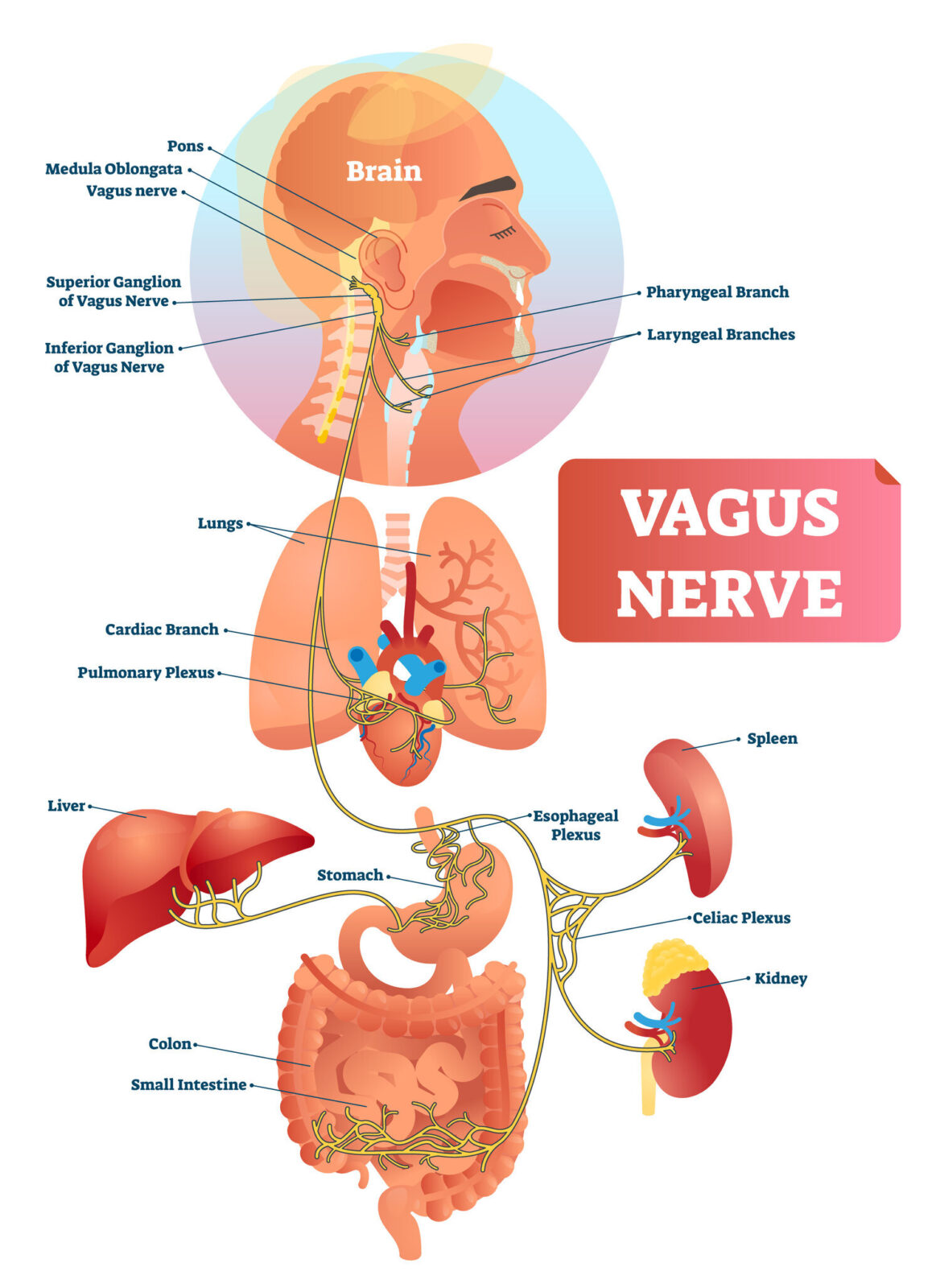 THE NERVOUS SYSTEM, HEART AND GUT CONNECTION
In 1872, Darwin published The Expression of Emotions in Man and Animals in which he wrote about brain-body connections. Intense emotions involve not only the mind but also the gut and heart: "Heart, guts and brain communicate intimately via the 'pneumogastric" nerve [today known as the vagus verve], the critical nerve involved in the expression and management of emotions in both human and animals. When the mind is strongly excited, it instantly affects the state of the viscera; so that under excitement there will be much mutual action and reaction between these, the two most important organs of the body."
If we agree with Darwin's theory (which modern research confirmed), the solution to healing our bodies and minds then lies in ways to alter the inner sensory landscape in our bodies. Indeed, we cannot become healthy, reverse obesity, diabetes T2, auto-immune disorders we become familiar with and befriend the sensations in our bodies. My coaching practice has grown to integrate tools and methods that invite people to reconnect with their bodies and the sensations within their bodies in a way that feels safe, helping them first notice and then describe the feelings in their bodies (I will share some of these tools in my upcoming Spring Hormonize Cleanse). Almost all of us who have had health issues (or taking medication to externally control health issues) have grown estranged from or numbed out our bodies. Reclaiming our health means taking a deep dive within.
To lose weight, to take this example again, means to feel safe in our nervous system to take on this deep inquisitive journey, understanding how we got here, what short-term solution being overweight offers us, what are we soothing? What are we hiding from our consciousness?
(quoting Bessel Van Der Kolk) "The body keeps the score: if the memory of trauma is encoded in the viscera, in heartbreaking or gut-wrenching emotions, in auto-immune disorders and skeletal/muscular problem, and if mind/brain/visceral communication is the royal road to emotion regulation, this demands a radical shift in our therapeutic assumptions" and treatment.
HOW STRESSFUL EXPERIENCES AFFECT THE HUMAN GENOME AND CAN BE PASSED ON
In a prior BLOG I discussed how we pass on chronic illnesses, Bessel Van Der Kolk also discusses in his book that trauma can alter the human genome and be passed on, via methylation patterns, from generation after generation, and that "once again, the body keeps the score, at the deepest levels of the organism." He quoted a research conducted in the UK by a McGill researcher that showed that "stressful experiences affect gene expression in humans which means that your trauma and your family trauma can be passed on and affect your health and that of your children. Differences in social class were associated with distinctly different epigenetic profiles, but abused children in both groups had in common specific modifications in seventy-three genes."
WHAT THE ACE STUDY TAUGHT US
Finally, the gravest and most costly public health issue in the United States seems to be child abuse. It appears to be a significant underpinning of our chronic illness epidemic. Have you ever heard of the Adverse Childhood Experiences Study (ACE study) by researchers Vincent Felitti and Robert Anda with Kaiser Permanente patients? Examples of categories of adverse childhood experiences considered in the study include physical and sexual abuse, physical and emotional neglect, and family dysfunction, such as having parents who were divorced, mentally ill, addicted, or in prison. The ACE study revealed that traumatic life experiences during childhood and adolescence are far more common than expected and have devastating effect on health decades later. The study respondents were mostly white, middle class, middle aged, well educated and financially secure enough to have good medical insurance and yet two third of the respondents reported having adverse childhood experiences!
Robert Anda, when he presented the results of the ACE study had calculated that "its overall costs exceeded those of cancer or heart disease and eradicating child abuse in America would reduce the overall rate of depression by more than half, alcoholism by two-thirds, and suicide, IV drug use, and domestic violence by three-quarters. It would also have a dramatic effect on workplace performance and vastly decrease the need for incarceration."
"Research by the Centers for Disease Control and Prevention has shown that one in five Americans was sexually molested as a child; one in four was beaten by a parent to the point of a mark being left on their body; and one in three couples engages in physical violence. A quarter of us grew up with alcoholic relatives, and one in eight witnessed their mother being beaten or hit." (quoting Bessel Van Der Kolk)
The ACE study shows how chronic illnesses develop in a disproportionate way in adults who were victim of child abuse with "those with an ACE score of six or above [scale is 0 to 10] had 15 percent or greater chance than those with an ACE score of zero of currently suffering fromany of the twn leading causes of death in the United States, including chronic obstructive pulmonary disease (COPD), ischemic heart disease, and liver disease. They were twice as likely to suffer from cancer and four times as likely to have emphysema." This is the toll the body takes when people suffering deep inside, whether they are conscious of it or not (the mind blocks trauma) have to numb their pain with food, substances and other mechanisms.
Trauma affects not only those who are directly exposed to it, but also those around them, witnessing it. It leaves traces on our minds and emotions, on our capacity for joy and intimacy, and even our biology and immune systems.
But I am an optimist, and I know that the body has an infinite capacity to self-heal but it takes a multi-dimensional and a bio-individual approach to heal. I hope this blog gives you a new perspective on your own health journey.
If you feel triggered by the content in this blog, please reach out to someone you feel safe speaking with. I am also here for you if you need to talk or would like my help in any way.
Thank you for reading,
Emma