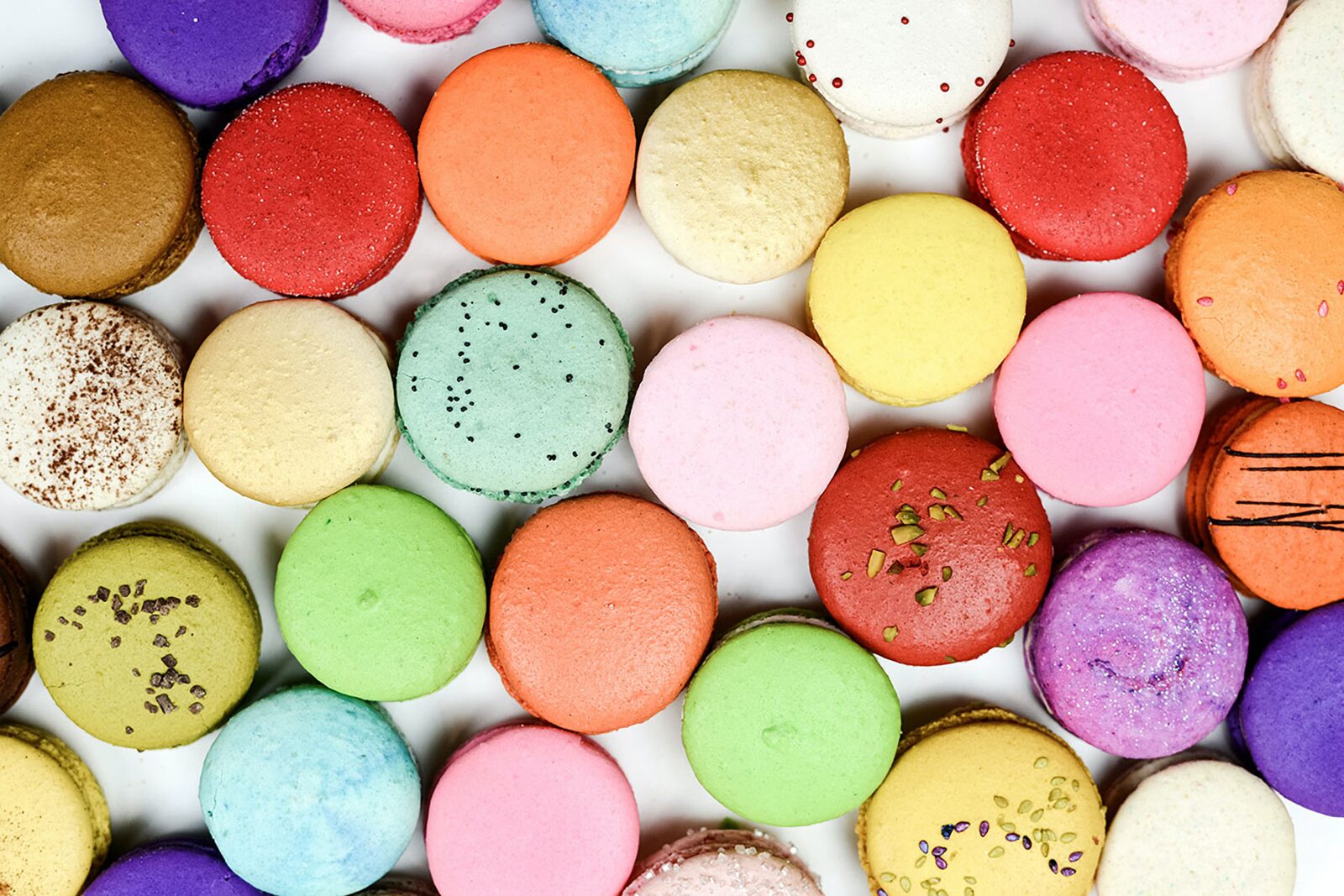 There's so much confusion around and vilification of sugar. I believe it stems from a lack of understanding of sugar basic function, definitions, human body physiology, diet bio-individuality and what's really in our food! This blog covers it all and I hope it gets us all on the same page, enabling us to make the right nutritional choices.
As you may remember from your chemistry classes and as I later learned at the Institute for Integrative Nutrition, in their simplest form, sugars are carbohydrates composed of carbon, hydrogen, and oxygen. There are three main types of sugars: monosaccharides, disaccharides, and polysaccharides.
Monosaccharides are simple sugars. They include glucose (also known as dextrose), fructose, and galactose. These sugars are the building blocks for more complex carbohydrates and occur naturally in fruits, vegetables, and dairy.
Disaccharides are made up of two monosaccharides joined together. They include sucrose (glucose and fructose), maltose (glucose and glucose), and lactose (glucose and galactose). These sugars can be found in foods like table sugar, beer, and milk.
Polysaccharides are made up of long chains of connecting monosaccharides. These are often referred to as complex carbohydrates and appear in a wide variety of foods, including whole grains, starchy vegetables, and legumes.
SUGAR AND DIGESTION
the process begins in the mouth, the majority of sugar digestion happens in the intestine. When you eat a monosaccharide, your body can use it for energy almost immediately by absorbing it into the bloodstream. When you eat a disaccharide or polysaccharide, which are more complex, your body must break them down into monosaccharides (usually glucose) before using them for energy.
Blood sugar is sugar carried to cells in the bloodstream for energy. Blood sugar levels rise after consuming meals with carbohydrates, especially those full of simple sugars, which are digested and absorbed quickly. Blood sugar levels also rise during times of stress or illness; they dip during times of rest, following exercise, and when meals are skipped.
The body works continuously to adjust and regulate blood sugar levels through hormone signaling. These levels are regulated by two primary hormones: insulin and glucagon.
When blood sugar levels are too high, known as hyperglycemia, insulin is secreted by the pancreas to help clear sugar from the blood and move it to cells where it can be stored.
When blood sugar levels are too low, known as hypoglycemia, glucagon is secreted to break down stored sugar and elevate blood sugar levels. Continually elevated blood sugar levels may contribute to weight gain, metabolic syndrome, and type 2 diabetes. It can also damage a variety of body organs and systems.
Once in the bloodstream, glucose can either be used immediately or stored in the body for later. If stored, the liver combines glucose molecules, creating a larger structure that can be broken down easily when energy is needed. If the
liver already has enough stored energy, the sugar gets converted to fat for long-term storage.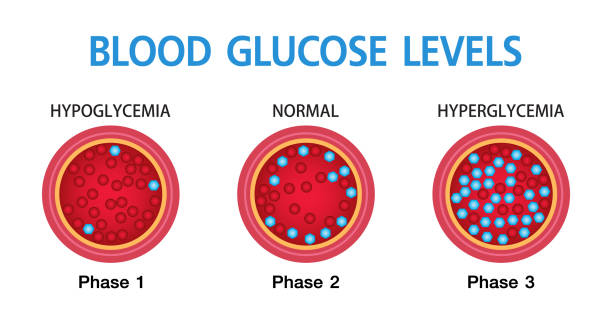 SUGAR AND HEALTH
Humans are biologically programmed to seek out sugar. Sweet flavors tell the body that something is safe to eat, while bitterness signals "poison." Sugar breaks down into glucose and fructose, which can be stored as fat for times when food is scarce. Our prehistoric ancestors faced famine and food shortages, so they consumed high quantities of carbohydrate-rich foods whenever they could.
People who ate more sugar were more likely to survive and pass on their genes. In other words, storing sugar as fat is an evolutionary survival mechanism. In today's world, sugar is abundantly available from many sources. However, we are still programmed to seek it out, which means that many of us eat more than we need to survive and thrive. For example, Americans consume an average of 126 grams of sugar (about 30 teaspoons) each day, which is more than twice the daily recommendation from the World Health Organization. Other countries with high sugar consumption include Germany, the Netherlands, and Ireland.
Countries with the lowest sugar consumption include India, Israel, Indonesia, and China, which all average less than 16 grams of daily sugar intake.
Repeated excessive sugar intake can affect health in many ways, including:
Increased likelihood of memory deficits and risk of Alzheimer's disease
Increased blood pressure and triglycerides, which may cause cardiovascular disease
Increased likelihood of dental caries
Increased risk of asthma
Distorting the hunger and satiety hormones, causing overeating and increased risk of obesity
Potential insulin resistance and possibly higher risk of type 2 diabetes
Disrupting the gut microbiome and negatively impairing immunity
Promoting inflammation, the underlying cause of many chronic diseases
Replacing nutrient-dense calories, possibly leading to vitamin deficiencies even if caloric needs are being met or exceeded
While some sugar in the diet helps our bodies move quickly and can help us stay alert, too much sugar can spike blood sugar and lead to crashes. This spike and crash pattern may contribute to larger health problems, including obesity and
heart disease.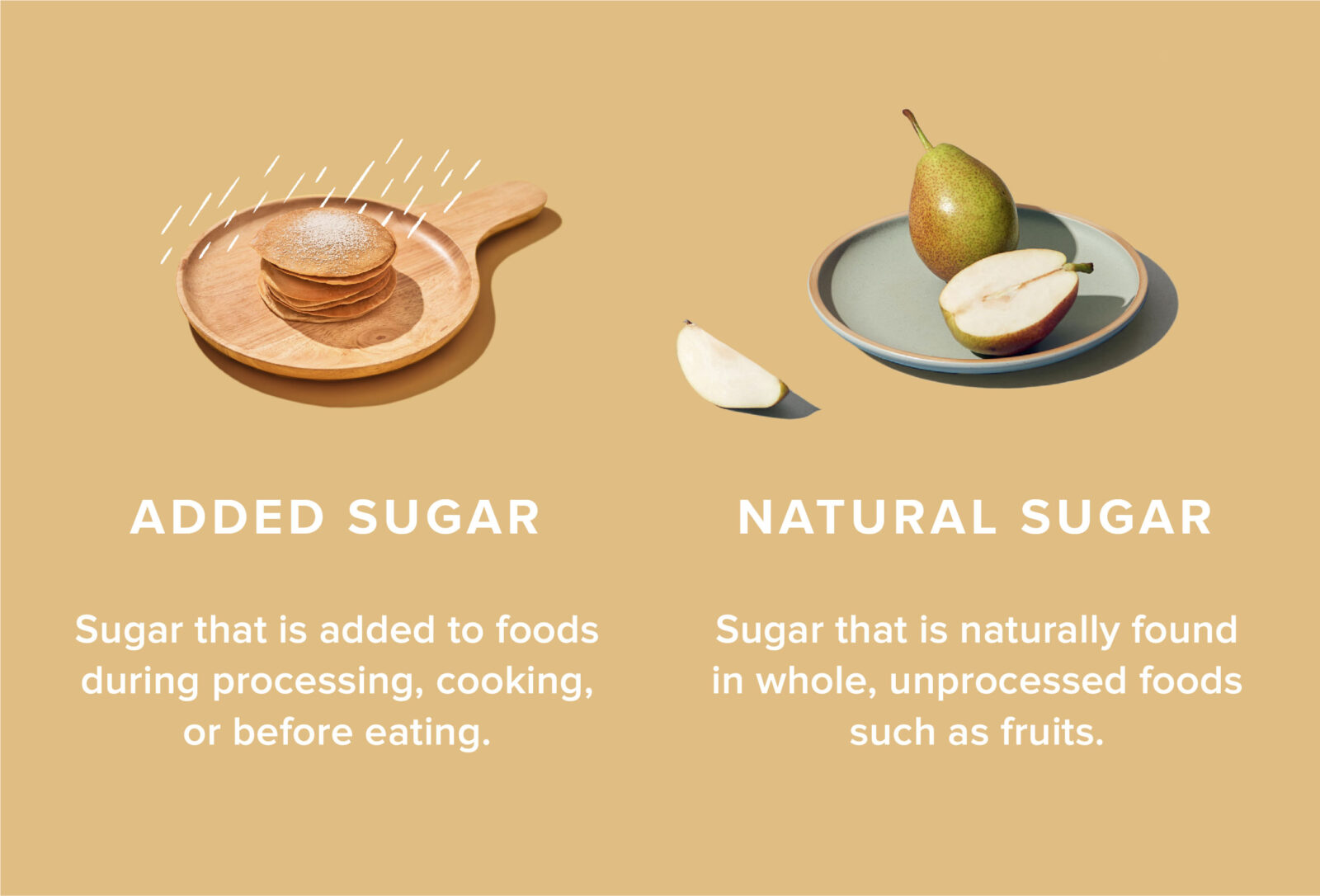 NATURAL VS. ADDED SUGARS
Natural sugars exist in fruits and vegetables and typically increase as they ripen. Though you are consuming sugar, you're also consuming vitamins, minerals, antioxidants, and fiber, which, in particular, can help reduce the glucose spike associated with eating sugar.
Sugar is sometimes added to foods and beverages during processing. Foods with added sugar tend to be higher in calories and lower in nutritional value, and they don't usually offer the additional vitamins, minerals, and fiber that foods with natural sugars offer.
Fiber makes us feel fuller for longer because it's a more difficult molecule to digest (if our bodies can digest it at all). Without fiber to signal fullness, foods that contain added sugars are more likely to be consumed in excess. Additionally, these foods are often packaged as snacks or desserts, so they are more likely to be consumed on their own, possibly leading to a more significant spike in blood glucose levels.
Foods that may contain sneaky sugar include:
Plant milks (such as almond and coconut)
Cured meats (such as bacon and prosciutto)
Deli meats (such as ham and turkey)
Kombucha
Condiments (such as mustard and ketchup)
Protein powders (read labels carefully!)
Salad dressings (Make your own!)
Sauces (such as marinara or barbecue)
Canned soups
Cereals and granola bars
Yogurt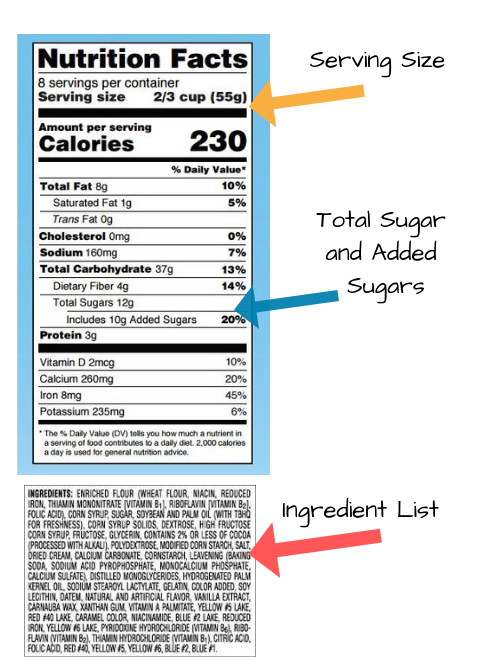 SUGAR IN THE WILD
When reading ingredient labels on packaged foods, you may be surprised to find that sugar isn't always labeled clearly. Some common forms of sugar are listed below so you can be well informed when grocery shopping:
Sugars: brown sugar, cane sugar, confectioner's sugar, raw sugar
Syrups: cane syrup, date syrup, high-fructose corn syrup, malt syrup, maple syrup, refiner's syrup, rice syrup
–Oses: dextrose, fructose, galactose, glucose, lactose, maltose, ribose, saccharose, sucrose
–Ides: disaccharide, monosaccharide, polysaccharide
Natural sugars: agave, coconut nectar, coconut sugar, date sugar, evaporated cane juice, fruit juice, honey, maple syrup, molasses, monk fruit extract, rice malt, sorghum, stevia, treacle
Artificial sweeteners: aspartame (Equal), saccharin (Sweet'n Low), stevia (Truvia), sucralose (Splenda)
Sugar alcohols: erythritol, glycerol, sorbitol, xylitol
Some people believe we should consume little to no sugar, while others believe our bodies need carbohydrates to perform the millions of daily functions required to sustain life. Some people believe that the source of the sugar doesn't matter because our bodies break it down into glucose either way, while others believe that only naturally occurring sugar is okay. As with other eating approaches, sugar consumption is bio-individual. Still, staying mindful of your intake can be an important aspect of preventing inflammation and disease.
A FINAL WORD: ARTIFICIAL SWEETENERS
Artificial sweeteners, also called sugar substitutes, are substances that are used instead of sucrose (table sugar) to sweeten foods and beverages. Artificial sweeteners are regulated by the U.S. Food and Drug Administration (FDA). The Food Additives Amendment to the Food, Drug and Cosmetic Act, which was passed by Congress in 1958, requires the FDA to approve food additives, including artificial sweeteners, before they can be made available for sale in the United States.
Currently, five artificial sweeteners are approved by the FDA:
Aspartame, sold under the brand names NutraSweet® and Equal®
Saccharin, sold under the brand name Sweet'N Low®
Sucralose, sold under the brand name Splenda®
Acesulfame K (or acesulfame potassium), produced by Hoechst, a German chemical company; widely used in foods, beverages and pharmaceutical products around the world.
Neotame, produced by the NutraSweet Company; the most recent addition to FDA's list of approved artificial sweeteners, neotame is used in diet soft drinks and low-calorie foods.
According to the National Cancer Institute, there is no clear evidence that the artificial sweeteners on the market in the United States are related to cancer risk in humans. However, numerous studies performed on laboratory rats link aspartame and saccharin to cancer, including a seven-year study conducted by a major nonprofit oncology lab in Italy.
The Center for Science in the Public Interest (CSPI), on the other hand, cautions everyone to avoid aspartame, saccharin and acesulfame K because they are unsafe consumed in large amounts or are very poorly tested and not worth the risk. The CSPI lists neotame and sucralose as safe.
Aspartame is of particular concern because it contains phenylalanine (50%), aspartic acid (40%) and methanol (10%), three well-recognized neurotoxins. The following symptoms have been associated with the consumption of aspartame: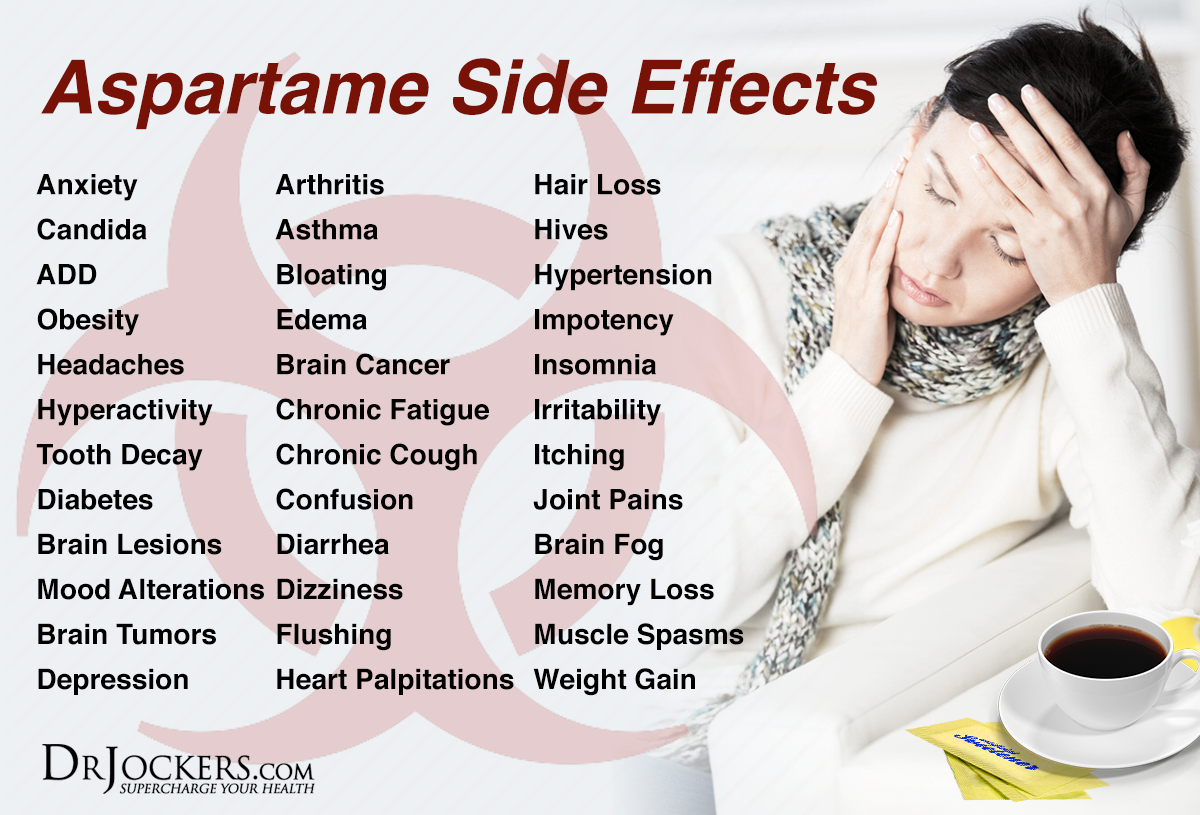 Fortunately, most of the above symptoms are alleviated once aspartame use is discontinued.
I hope this is helpful to you and helps bring clarity to the recent conversations around sugar and artificial sweeteners that are making the headlines in the media (rightfully so). Let me know if you have any questions!