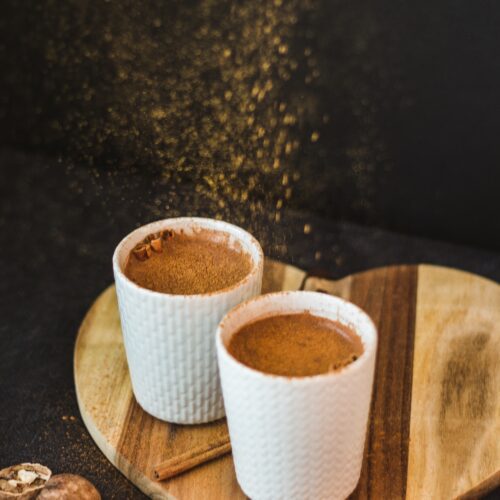 Chocolate Elixir
This Elixir combines two powerful aphrodisiacs: cacao and ashwagandha. Ashwagandha is believed to procure the endurance of a horse to anyone drinking it, promoting vital health and energy! Sexually, it increases DHEA and testosterone, and shown to improve sperm count, semen volume, and motility in men with low sperm count.
Ingredients
1

TBSP

unsweetened cacao powder

1

tsp

Ashwagandha powder

or Tribulus (see Notes)

pinch

sea salt

¼

cup

cinnamon

optional: pinch cayenne pepper

1

cup

hot water

a few drops vanilla liquid stevia

or plain stevia

coconut milk or nut milk
Instructions
Place cacao and ashwagandha powder, sea salt, cinnamon, and optional cayenne pepper at the bottom of a tea cup and pour hot water as you would for tea. Whisk as you pour the water with an electric (or manual) whisker.

Add Stevia and a little coconut or nut milk.

Whisk with a small whisk or fork until frothy.
Notes
Tribulus (Gokshura in Ayurveda, also known as Cat's Head or Caltrop) is another herb you can rotate with Ashwagandha. It's a fruit that is safe at lower dose and improves erectile strength, ejaculation and increases testosterone and desire in young and older adults. It also helps improve fertility. It is also effective and safe for female sexual dysfunction with statisticallt significant increase in desire, arousal, orgasm, satisfaction and lubrication.