Enjoy these 6 fruit to support optimum sex hormones levels
For as long as I remember I've received compliments from men and women of all ages about how beautiful my mom is. My mom is a natural beauty, down to earth (a Virgo through and through) and not a Beauty Queen. She doesn't like the spa, massages or facials and doesn't spend money on expensive creams and makeup. She's always rolled up her sleeves, working in tandem with my entrepreneurial dad, raising 3 kids, taking care of several houses, home-cooking, gardening, and an animal lover, took are of many animals too (over the years she's had a earth giant turtle, a porcupine, birds, cats, dogs, rabbits, horses, etc.). At almost 70, she's looking as beautiful as ever and I attribute her beauty to two things: 1/ the passionate love she shares with my father (love is powerfully rejuvenating. it's the ultimate anti-aging cream!) and 2/ a minimum of 4 servings a day of hormones balancing fresh fruit.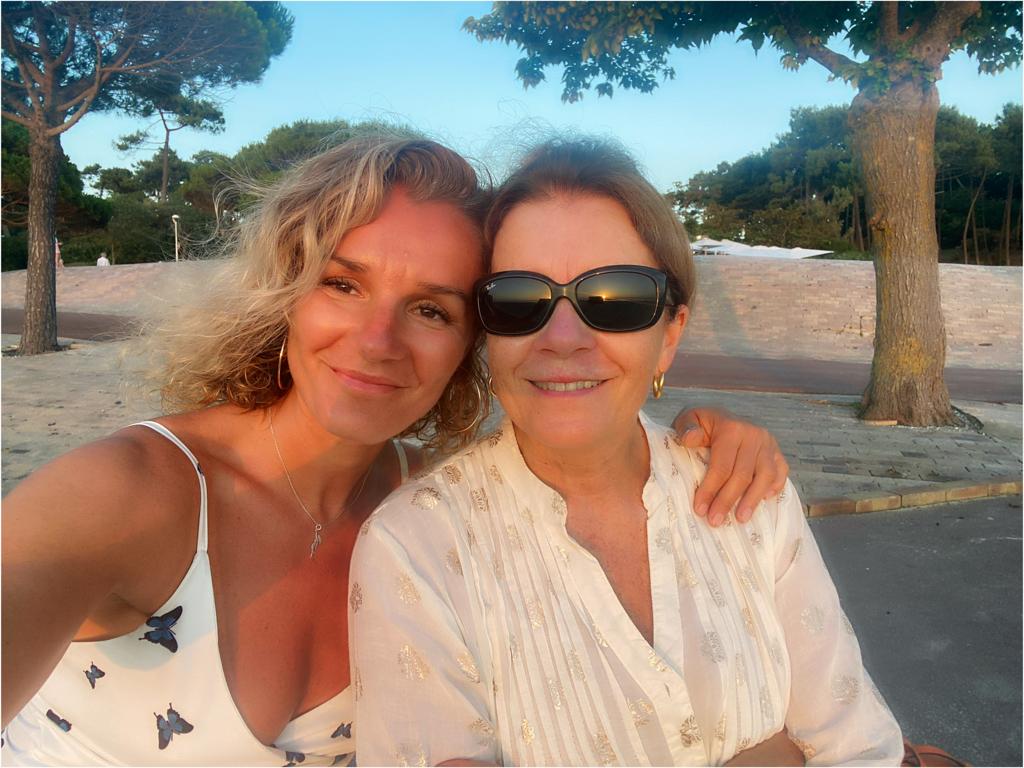 Before I introduce the 6 Fall fruit, let's get on the same page about hormonal balance. Hormones are chemical messengers that regulate everything in our body. We all are "hormonal". Sorry, but it's not a "bad bitch" issue! Our sex hormones very much determine our appearance, body composition, strength, mental focus, our vitality and emotional mood to name a few.
Our sex hormones do not function in isolation. They interact with other hormones such as our stress hormones (cortisol, adrenaline), our thyroid hormones (T3 and T4), and our blood sugar regulation hormone (insulin) for instance. Our endocrine system is linked to our nervous system, digestive and elimination system, circulatory system, etc. Our sex hormones are the top of the Pyramid when it comes to Hormonal Hierarchy. For them to be in balance and supporting you to look and feel your best, all other systems below need to function at their best.
So when we experience uncomfortable shifts such as accelerated aging, weight gain, hair loss, muscle and bone mass loss, loss of energy, mental fog, lack of libido, infertility, irregular menstruation, PCOS, tender breasts and for women in menopausal years, hot flashes, insomnia, big mood swings, it's because the delicate hormonal balance is disrupted. Let me be clear, THESE SYMPTOMS ARE NOT A CAUSE OF AGING. They're caused by ineffective self-care. As we grow older, we need to really step-up our self-care significantly, because the wear and tear accumulated over the years on our body will start to show if we don't course correct and take proactive action.
Lastly, optimum hormonal levels are best understood in terms of hormonal balance, meaning in a balanced relationship to one another, Estrogen in relationship to Progesterone and Testosterone, not in absolute numbers. Of course the higher the levels we have the younger we look and feel (and food and lifestyle can help you preserve your levels. My hormones test last month showed levels of estradiol and follicles that of a woman 10 years younger than I) but if the RATIO is off balance, you won't feel well. Think of all the young women in reproductive years with high levels of estrogen suffering of painful period, acne, PCOS, etc. These are hormonal issues in terms of ratio. Said otherwise, two women may have different estradiol levels (one high in her 20's and one low in her 50's) and be perfectly balanced because the relative levels of their progesterone to estrogen is balanced.
Too much hormones is just as problematic as too little. Estrogen dominance is one reason why women and men experience the symptoms outlined above. So when eating for hormonal balance, we're looking for foods that help regulate the metabolic cycle of our hormones described as secretion, usage, detoxification and excretion. The impact of food one one or more of these cycles is what we're looking for so that the body can SELF-REGULATE. Fresh fruit are amazing for our sexual vitality. You'll read below how these fruit can lower or increase hormonal levels. Do not read this in terms of "absolute" but in terms of "rebalancing". So if pomegranate helps to lower free testosterone and andrestandione in PCOS patients, it doesn't mean it will in healthy people. It won't. The body is the one self-regulating as it needs to, using nutrients. Foods do not do the adjusting. Below is a list of the top fruit I recommend you eat this Fall. Bon Appetit!
What you need to know: Pomegranates help counter estrogen dominance, hereby balancing estrogen levels in the body and preventing estrogen-dependent cancers. They do this first by supporting liver health, since the liver is a key organ in detoxifying and removing those dirty estrogens from the body (detoxification and excretion metabolic phase mentioned above). Second, their high levels of antioxidants have been shown to improve fertility, reduce prostate enlargement and in a study of diabetics, reduce erectile dysfunction. In patients with PCOS, pomegranates are recommended for reduction of polycystic ovary syndrome complications as they reduced concentration of estrogen, free testosterone and andrestandione hormones (that speaks to the body SELF-REGULATING with the right micro-nutrients).
Recommendation: Top your breakfast toast, cereal, yogurt or salad with the seeds of 1/2 a pomegranate a day. Try my Fall Oats with Cranberries and Pomegranate Recipe or my delicious Kale Roasted Sweet Potato and Pomegranate Salad Recipe!
What you need to know: Banana provides key nutrients to your body to support the secretion phase of your sex hormones and are especially beneficial for men's sexual health. Potassium, the main nutrient in banana, helps to boost the production of testosterone, the male sex hormone and improves the libido. Bananas are a great source of bromelain and vitamin B (especially B6) that further support the regulation of testosterone. Tryptophan, also present in bananas, helps to increase the secretion of serotonin, a hormone that lifts mood and increases the sex drive in men. Manganese and magnesium in bananas improve prostate health and promotes the functioning of reproductive organs to their optimum. Bananas being a good source of carbohydrates boosts energy levels and increases blood circulation even to male reproductive organs and helps to improve sensitivity in the penis.
Recommendations: Add a banana in your smoothies or try my 4-ingredient gluten-free vegan pancakes recipe made with a banana and another hormones balancing food: flaxseeds.
What you need to know: We need enough healthy fats to make hormones, and avocados are a great source of hormone building blocks (secretion metabolic phase). Avocado is rich in mono-unsaturated healthy fat which are essential building blocks for hormone production and keeping your hormones in check as well as lose weight. Research shows that avocados can help reduce the absorption of estrogen and boost testosterone levels. They also improve heart health and aid in satiety. Avocado is rich in many vitamins and minerals, and research has shown that eating one avocado per day for 12 straight weeks helps redistribute belly fat for women. It lowers women's visceral fat levels, which are essential in preventing diabetes. So do not fear avocados!
Recommendation: Try to eat at least 1/2 an avocado a day. I like it at breakfast on toast, on top of salads, to make vegan chocolate pudding, or instead of sour cream in my Baked Sweet Potato with Broccolini, Avocado and Pesto Recipe.
What you need to know: Raspberries, blueberries, blackberries, and strawberries are all hormone balancing foods packed with great nutrients. Berries are rich sources of vitamin C, which regulates your progesterone levels, particularly during the luteal (PMS) phase of women's cycle. If you have especially rough PMS, it could be a progesterone imbalance. Pretty darn essential if you ask me! Berries are also packed with polyphenols, powerful antioxidants that protect your cells from stress. Polyphenols decrease inflammation and can help you manage cortisol, your body's stress hormone. This is very crucial because your sex hormones compete with your stress hormones for nutrient use for secretion. In other words, you either create sex hormones or you create stress hormones. This is why women under chronic stress levels are often unable to conceive a child or why menopausal women (whose estrogen production moved to the adrenal glands) see greater imbalance symptoms. Their body cannot maintain sex hormones production.
Recommendation: Try doubling down on berries in the days leading up to your period; the vitamin C in them may help relieve your symptoms. You can also make my super immunity breakfast smoothie recipe, packed with blueberries, bananas and other hormones superfoods such as cacao, healthy fats and dark leafy greens.
What you need to know: Red grapes are another one of the foods that help to balance estrogen by giving the body the nutrients it needs to preserve your good hormones levels and inhibit a process of hormones conversion called aromatization. Studies have found grape seed extract to stabilize hormones due to the effect on aromatase which is an enzyme that converts testosterone into estrogen. One way that we increasingly become estrogen dominant is through that aromatization process. Male's testosterone turns into estrogen and women's progesterone turns into estrogen (you can see the issue if you're on hormone therapy too… it may compound the imbalance issue). In addition, in the skin of red grapes is resveratrol, a chemical that works to block estrogen production. Along with acting as an antioxidant, resveratrol helps flush excess estrogen from the body. Foods rich in resveratrol can also help reduce levels of testosterone if these are excessive/out of balance.
Recommendation: Consuming a cup of red grapes, with seeds is best, daily is a fantastic snack idea. And no, drinking red wine doesn't confer the same effects! In fact, alcohol stops the detoxification and excretion of used up estrogen and increases estrogen dominance as well as the risk of breast cancer as the liver will damp back a modified and harmful version of estrogen into the bloodstream for re-absorption in the body.
What you need to know: Apples support all stages of hormones metabolism. They are packed with vitamin C, which is essential in the production of progesterone, the hormone responsible for reducing depression and anxiety. Even apple cider vinegar is beneficial for hormonal balance and beneficial to regulate the menstrual cycle, alleviate PCOS, and also helps in managing the blood sugar level and doing so, support weight loss. Apples are a rich source of quercetin, an antioxidant that reduces inflammation in the body. But one of the main reason why I eat apples is that they support the body's detoxification processes. Apples contain high levels of pectin, a chemical that helps the body cleanse and release toxins from the digestive tract. With fewer toxins in the digestive tract, the liver can better manage its toxin load, being able to better cleanse the rest of the body, including used up estrogen hereby reducing estrogen dominance.
Recommendation: Eating an apple is an instant mood booster and relaxant, and… it keeps the doctor away. Add it to your salads, breakfast, snack or juice them with celery, and leafy greens.