Hello,
2015 has been a beautiful year filled with magical moments shared with my amazing students and clients. I wanted to share with you my top 10 memories, each filled with joy and learning from your wisdom. Your life shaped mine. Your struggles were my challenges. Your successes were my highs. Your desires were my command.
As an entrepreneur, my personal life and my business intertwine. Our interactions deeply affect me as I live my personal life and deal with my own challenges, feelings, successes and set-backs. I learned a lot from being invited into your life and entrusted with supporting your health goals. My business focus has also been shaped by your demands, your desires, the issues you brought to the table for me to help you solve. And we've solved so many challenges, turned health issues around, brought back hope and joy and celebrated together! I could not be more grateful.
Relive our best moments in 2015 below:
#10. When my book "Feeding Success" came to life in a 3-month executive coaching program for busy professionals looking to take their heath and lives to the next level.
I was fortunate to work with rock star busy professionals who were at the top of their careers, all so diverse and hungry to change their mental outlook and physical state of health (a NY Times multiple best selling author, a nose, an executive in the luxury industry, accomplished lawyers and partners, etc.).
#9. When Zenberry became a sponsor of the World Sports and Spinning Conference
and we were fortunate to meet thousands of like-minded fitness entrepreneurs and fitness instructors. We made new friends and mingled with our customers under the Florida sun.
#8. When I flew to Jamaica for my first teaching vacation.
Oh my Oh my! What a blast! I was engaged by the Hyatt Ziva Rose in Montego Bay to teach a morning yoga and a morning bootcamp class in exchange of a 7-day full-inclusive stay in this exclusive resort. It was such fun to workout with all these international guests under the coconut trees and the turquoise blue ocean.
#7. When Crunch Fitness nominated me as a top instructor of the year
, aka (in their words) "Aficionado of Fitness and Executive Educator of Excellence!". I felt the love pouring from the members and management. I did not even know we were up for evaluation. This was one of the happiest days! Thank you!!!
#6. When Shane and Team Zenberry won the New York State Championship of Road Racing and the King of the Mountain jersey at the Green Mountain Stage Race in Vermont.
This evidenced that Zenberry is a fuel of choice for athletes. Our reputation as a cycling team grew throughout the Northeast and expanded all the way to Virginia to where some of our team members were recognized. We also got more sponsors behind our cycling team and we're so grateful for their support: Defeet International, American Classic Wheels, Westwood Cycle, and Smith Optics.
#5. When the 10-Day Essential Body Rejuvenation Program, a virtual dietary and lifestyle detox program I've been running for several years gained more participants from the US and abroad and led to impressive health turnaround.
Moreover the community created continued to stay in touch long over FB after the program was completed. These 10 days filled me with such deep sense of gratitude and utter joy. I love, love, love the Spring and Fall detox. My heartfelt thanks for trusting the process. Here are some of the amazing results of the 10 day program:
Average weight loss was 8lbs with some reaching up to 16lbs of fat and waste loss
Lower and stable blood sugar for diabetics (around 119 from over 200), reduced cancer markers by 2points for cancer patients, lower triglycerides and cholesterol levels,
Gone were the migraine headaches, neck, knee and back pain, and gone were the medications prescribed for them
Significant reduction in allergies and allergy medicine
Increased energy level and sleep quality
Digestive system back to normal (no more constipation, diarrhea, bloating, gas, acid reflux and leaky gut pain)
Improved skin complexion, less cellulite, reduced black circles under the eyes
Stress and anxiety replaced by peace of mind, confidence, and joyfulness
As a result, some participants made drastic life changes (job change, home relocation, relationship reshaping, etc.)
Emma's famously delicious Kichadi in the Fall Program
Delicious green smoothie with the Spring program.
#4. When Goji Fitness bought an online course management system to design, develop and implement online wellness courses to enable more people to enjoy our teaching at a lower cost and from the comfort of their homes.
In addition, Emma and Shane invested in a camcorder and film editing software and got to work. The
Fall 10-Day Essential Body Rejuvenation Program
is now available online as the first of a series of exciting learning opportunities.
Emma also created a short 17-min free online course called
10 Tips to Reduce Sugar Cravings
which got great reviews. You can access it
HERE
anytime. Thank you!!
Below is a super sweet family taking one of Emma's yoga classes together online. Such great feeling!
#3. When I was hired as a public speaker for several large and small companies and associations
to inspire the employees to revisit the old definition of work/life balance and consider what their definition of success and satisfaction in all aspects of their lives (not just balance) would be like. I spoke about how to feed success starting with how you invest in your health, what to eat for energy, how to create a healthy on-the-go lifestyle, etc. I was also fortunate to be retained by a fantastic and proactive law firm to facilitate a monthly group health coaching program. The employees, empowered with new knowledge and skills put into action 2 to 3 changes to further their health every month. I also started to do keynote speaking. Special thank you to the Adelphi NY Statewide Breast Cancer Hotline for inviting me to speak. Coming from a place of having lost my own health and traveled the difficult journey of gaining it back, I felt specifically connected to you!
#2. When Shane Moran, my partner, competitive cyclist and certified USA Cycling Coach dared putting himself out there and formally launched his endurance coaching business.
He shares his immense knowledge of sports and fitness with his clients and in his content-rich blogs. Check it out: www.otsendurance.com Shane's edge is that he merges sound endurance training techniques with technology to measure performance but he also looks into one's cross-training, stretching and nutrition. With my assistance, he developed a strength training, corrective training and a flexibility training program in support of his client's endurance training. We also look at the diet and lifestyle of our athletes. There is a lot more to bike racing than just riding your bike and Shane proved this by winning the 2015 NY State Road Race Championships in May at 41!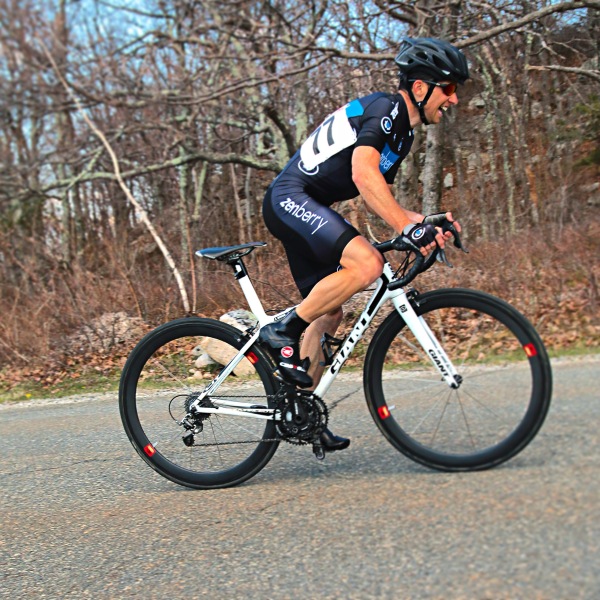 #1. The highlight of my year was my trip to India to finalize my yoga teacher training as well as observe the 8 limbs of yoga, which included following a moral code of conduct that truly elevates us as human beings and eating a sattvic diet, as well as performing daily cleansing rituals to keep the body and mind clean.
This trip was life changing because I was ready to finalize my own assimilation of what constitutes vibrant health. My journey for the betterment of my health had started 10 years ago at the National Institute for Ayurveda after I had fallen sick with my first panchakarma (and my first taste of kichadi!). My stay in Rishikesh for a month and 200-hours of yoga completed it in a way. It all makes sense now how the mind, the heart, the body and the spirit interconnect. I learned how to create that connection for me and for others who are open to listen. It is not about work/life balance, dieting or killing yourself in punitive workouts at the gym...
When I laid my eyes on the foothills of the Himalayas by where I was staying, my mind went blank. I felt so overwhelmed emotionally. So small and insignificant, yet at the same time, I felt my life mattered and I was important. My purpose is to help people be the healthiest they can be. Because their lives matters and it is from a state of vibrant mental and physical health that they'll be able to carry their purpose.
My awesome classmates playing around during a break. This woman was so strong and yet she was suffering from intense physical pain when she arrived. We all left different.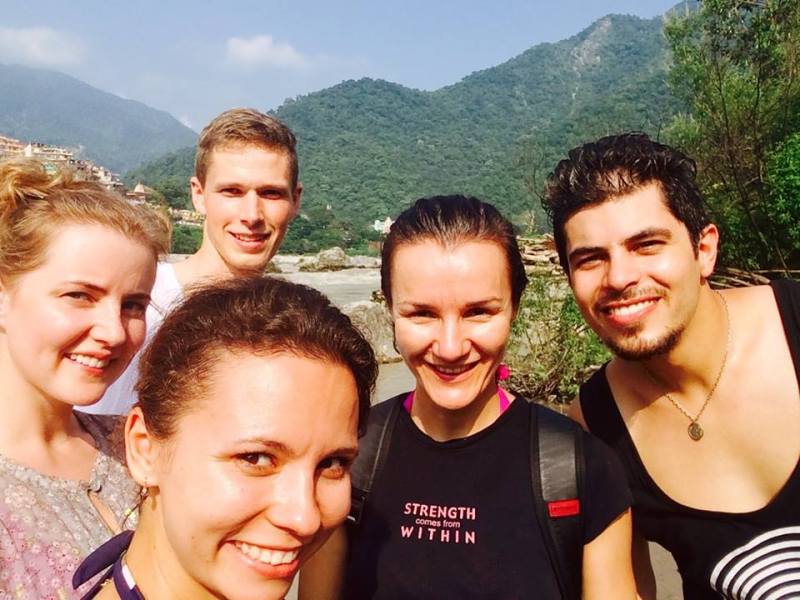 The Ganges river in the background with great friends with great stories: A Russian woman living in China; An Icelandic couple traveling around the world and an Argentinian moving to Australia and passing this month by India...
This was Emma's and Goji Fitness' year in a nutshell. You are an integral part of my life and I thank you for making my life so great,
Happy New Year Celebrations!
In health and happiness,
Emma